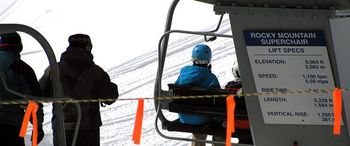 Ski Hill Road is a big gently winding road up to Peak 8 of the Breckenridge Ski Area. If you walk up this road to Shock Hill, and then on to the ski resort you feel you're gaining elevation.
When you ride the gondola from its base near City Market and downtown Breckenridge, it goes straight up Shock Hill, and it gives a great view of town and Baldy Mountain on the east side of the Blue River Valley.
This is only the third full ski season since the gondola's gone in, so it's still a bit of a novelty. And pretty.
At the top end of the gondola, you're at the base of Peak 8 and have the option to ride either the Rocky Mountain or the Colorado super chair lift. Both carry you up to the top of this peak, and from there you can get just about anywhere in the Breckenridge Ski resort.
On a warm spring day, the possibilities seem endless.